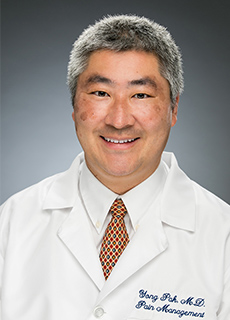 Education:
MEDICAL SCHOOL
University of Oklahoma College of Medicine
Oklahoma City, OK
RESIDENCY
Baylor Medical Center, Dallas, TX
Specialty:
Pain Management
Address:
2120 N MacArthur Blvd,  Suite 100
Irving, TX  75061
Dr. Yong Pak is a fellowship trained – pain management physician. His training allows him to treat both acute aspects of pain as well as chronic pain. Dr. Pak is board certified in Physical Medicine and Rehabilitation. He also does electromyographies and nerve conduction studies.
Dr. Pak is well trained to perform multiple pain management procedures. These include epidural steroid injections and facet injections in the entire spine. Other procedures include sympathetic blocks, stellate ganglion blocks, and botox injections. He performs other advanced pain procedures including rhizotomies and spinal cord stimulators. He uses only the latest technologies to assist him in his practice. These include laser guided uoroscopy and tri-pole spinal cord stimulation. Most of his techniques focus on the least invasive way to reduce a patient's pain. Often times, medications and physical therapy is needed to assist in the reduction of pain.
Dr. Pak was raised in Oklahoma and a ended the University of Oklahoma for his undergraduate and medical school, where he graduated with summa cum laude honors. He then went on to do his internship at John Peter Smith Hospital in Fort Worth, and completed his residency at Baylor University Medical Center in Dallas. Dr. Pak nished his pain management fellowship in the San Francisco bay area at Integrated Pain Management (associated with John Muir Medical Center).